The process of effective therapy requires a space of safety and protection.
You typically sit across from a therapist at your most vulnerable opening up about what is truly painful and unbearable.
Do you trust this therapist will not judge or condemn you? Will you wonder if they understand your experience and have the ability to help you solve the problems at the center of your pain?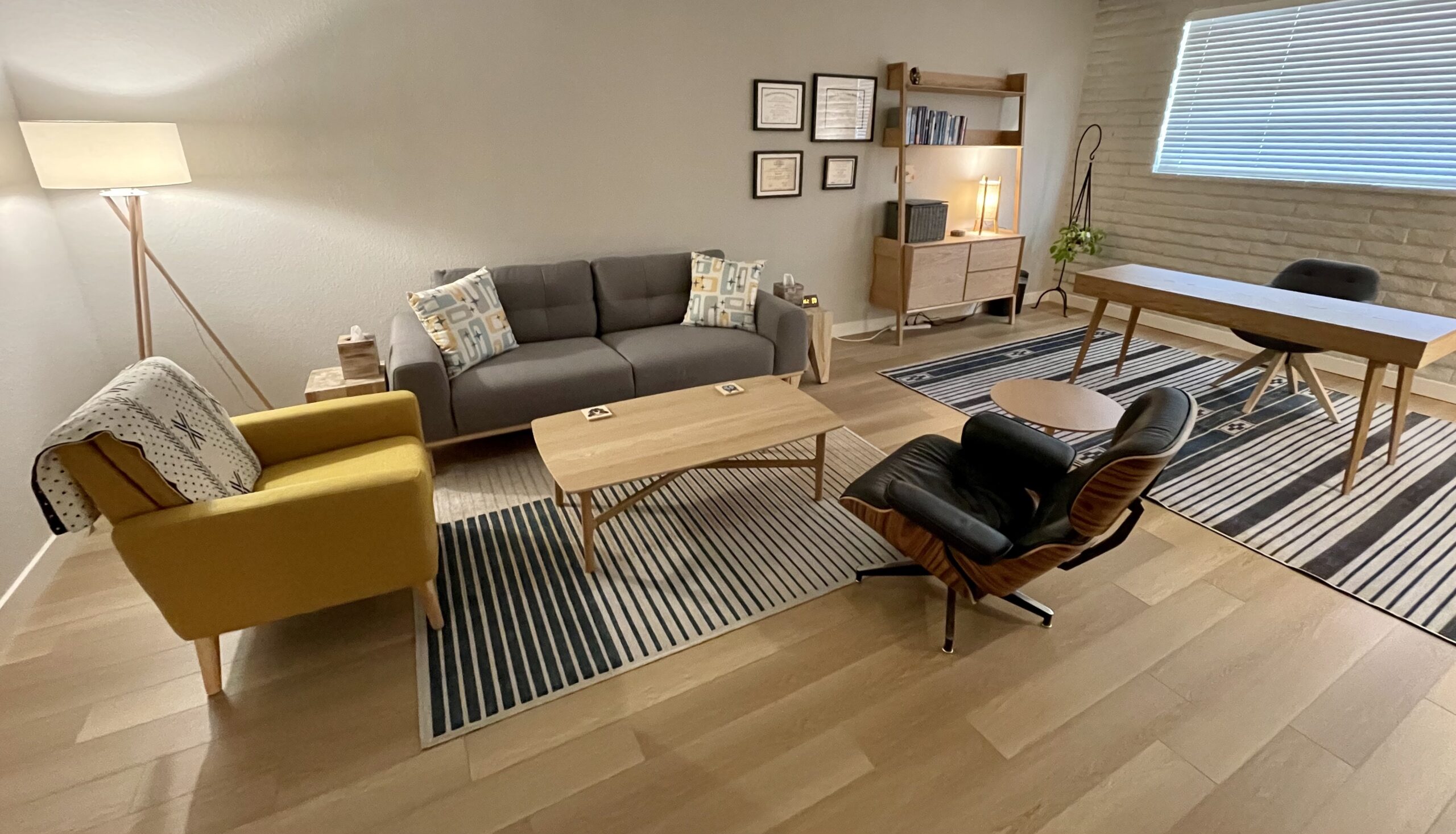 An effective therapist has to successfully create and hold this safe and non-threatening space while exploring alongside you without judgment. Therapy is at its best when it is truly collaborative. You are the expert of your own life. The therapist assists you in the process of self-discovery and change. Goals for therapy are identified and a capable therapist helps you to accomplish them.
Some examples of possible goals are learning new skills to communicate more effectively with your partner in order to reduce conflict. The following session we would determine how it went for you and if anything got in the way of the desired outcome. Often, strong emotions interfere with our ability to successfully communicate the intended message so in that session we would work on techniques that can help manage your emotions better and put you in charge of them instead of them controlling you.
The focus of any session is whatever the priority is for your life at that time. Goals for the session can change depending on what is most important to you and what will better serve your overall growth and progress.
About Us:
Rick Grant-Coons, Psy.D.
PSY25285
Owner/ Clinical Psychologist/ Psychotherapist/ Speaker
My goal of becoming a therapist began after I walked into a support group for the first time. I was lost in my life and unable to figure out the direction I wanted to go in. I sat in a room with people I didn't know but all shared a similar struggle. I had never experienced such a safe space before. I felt understood and could finally speak the words that had been unmentionable before. This group gave me the ability to voice my pain and transform it into something I could use to make my life better. They inspired me to continue this work for others and that's when I decided to become a therapist.
I received my masters in clinical psychology specializing in LGBTQ Affirmative Therapy (Lesbian, Gay, Bisexual, Transgender, Queer or Questioning) from Antioch University in Los Angeles. Working with the LGBTQ communities is deeply personal to me. As a member of the community, I have greatly benefited from this approach and know first hand how it works to transform shame and foster empowerment.
I then went on to earn my doctorate in clinical psychology with an emphasis in multi-cultural and community psychology from the California School of Professional Psychology in Los Angeles. I've been a psychotherapist since 2006 working mostly with marginalized communities. I've trained at agencies like AIDS Project Los Angeles, Los Angeles LGBT Center, South Central Training Consortium and The Los Angeles Children's Hospital-High Risk Youth Program. I've also been in private practice since 2009 providing individual, couples, and group therapy. Before moving to Sacramento, I was the Lead Clinical Supervisor at Didi Hirsch Mental Health Services-Suicide Prevention Center developing and facilitating support groups for Suicide Attempt Survivors and providing suicide prevention trainings all across the United States and Canada.
My work as a therapist in Sacramento is to provide a safe space for all my clients to experience self-acceptance and transformation toward their ultimate potential. My training has equipped me to support clients through this process and help them navigate life's most challenging circumstances. Whether you are working on sexual or gender identity issues, depression, loss, anxiety or self-confidence, together we can discover what empowers you and gives your life ultimate purpose and meaning.
Jeremy Sundby, Ph.D.
PSB94024563
Psychological Associate
My approach to therapy is to help you uncover what is blocking you from living your life to the fullest. I do not believe I hold all the answers, rather I will help you uncover the answers to the problems you are facing; we will work together to find the best solutions to what is troubling you. I sincerely believe in listening to you fully and not judging you for how you feel or think.
When we meet, you will be in a safe place; our work together will be in a place of empathy, where we will explore your life and find tools to help you cope with life stressors while uncovering what caused the pain. My goal is to help you live the life you deserve to live. When working with you, I will not subscribe to a "one-shoe-fits-all" approach with therapy. Instead, we will explore what the issues are and tailor your treatment with an appropriate therapy that works and will be beneficial to you throughout your life.
We will blend old and new styles of therapy, so you will have the best of traditional forms of therapy and modern approaches. Helping you achieve the person you want to be, the healthy you, is my goal. Your recovery is important to me.
Education:
I graduated from Tulane University with a degree in philosophy and then went on to San Diego State for my Masters in Liberal Arts and Sciences. After graduating from San Diego State, I attended Northcentral University and earned a Post-Masters in Psychology as well as Family Therapy.
For my doctorate, I earned a PhD in Psychology from Northcentral University and was inducted into the Golden Key Honour Society for academic excellence. Additionally, I have had the great pleasure to learn from world-renown forensic psychologist, Dr. Robert Hare. I am able to competently administer and interpret the PCL-R (the gold standard in forensic assessments when assessing for psychopathy).
Specialties:
Depression
Anxiety
Schizophrenia
Trauma
LGBT/identity
Personality Disorders
Substance Abuse/Addiction
Contact: 
Phone: (916) 616-7603            Email: JSundby@EmpoweredLivingTherapy.com
Kate Bautch, EdD
PSB94026476
Psychological Associate
I am Dr. Kate Bautch, a licensed psychological associate and I work with adults, adolescents, and children, providing individual, couples, and group therapy. In our sessions I seek to create a safe space in which you feel respected, understood, and supported. From that place, we will work together to identify what is causing your pain, and how we can use your resilience and personal strengths to facilitate the positive change you are seeking. I approach each session with acceptance, empathy, compassion, and sometimes a little humor to lighten the mood when appropriate. Creative arts therapies can be incorporated into traditional and modern psychotherapy techniques for clients who wish to explore their challenges through that lens. My goal for our work together is to address the challenges you are facing, facilitate growth toward positive outcomes, and to help you find meaning and purpose in this journey.
Outside of the office I find balance and joy in music, hiking, reading everything and anything, cooking ridiculous quantities of whatever is seasonal, photography, painting, restorative yoga, family road trips, and playing with my rambunctious dog.
Education and Professional Experience:
I earned my doctorate in counseling psychology from the University of the Pacific in Stockton, specializing in anxiety, trauma, and neuropsychology. In addition to my doctorate in psychology, I received a masters degree in music therapy and became a board certified music therapist. Prior to becoming a psychological associate, I served as a music therapist at Sutter Center for Psychiatry, Sutter Rehabilitation Institute, Lodi Memorial Hospital, and at Sutter Medical Center Sacramento. During my time at those sites, I provided support to patients and their loved ones in inpatient adult, latency, and adolescent psychiatry units, as well as the neurological rehabilitation, ICU, Cancer Center, Pediatrics, PICU, Pediatric Oncology, NICU and General Med/Surg units.
In addition to my work as a therapist, I am an adjunct faculty member of the psychology department at San Joaquin Delta College in Stockton where I teach psychological statistics and human sexuality. I am identified as a Safe Zone faculty member and provide support to students in the LGBTQ+ community. In addition to my safe zone work, I am a member of the faculty LGBTQ+ affinity group at Delta and am a founding board member of the national LGBTQAI+ affinity group of music therapists. During my graduate work I served as a student representative for the Diversity, Equity, and Inclusion and Research Committees of the American Music Therapist Association. My current areas of research focus on bisexuality in mixed orientation marriages, and long-term anxiety/hyperarousal symptoms associated with complex post-traumatic stress disorder.
Specialties:
Anxiety
Trauma/Abuse
LGBT/identity
Coping with Illness (self or loved one)
Depression
Relationship Attachment
Grief/Loss
Professional Transitions
Multicultural Issues
Contact:
Phone: (916) 905-7012           Email: KBautch@EmpoweredLivingTherapy.com
TAKE THE NEXT STEP
Sign up for the initial consultation. Fill out the form below.